Welcome!

Welcome to our site! We at ADVERTISING GURUS® can help you promote your business. Whether you want pens, pencils or hats, we have just about anything that your company name can be printed on available.
We guarantee the lowest pricing on any specialty advertising that we handle and if we don't have it, we will do our best to get it for you. If you have any questions, please feel free to contact us. Thank you and enjoy!
Featured Item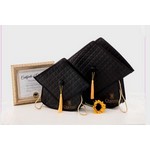 The Quilted Grad Bag - 17"x19"
Luxury Quilted Graduation Bag. The Grad Bag is a magnificent bag option for a school function event,college party celebration and educational fundraiser projects! It is the real bag with the real genu...

Signature Showrooms